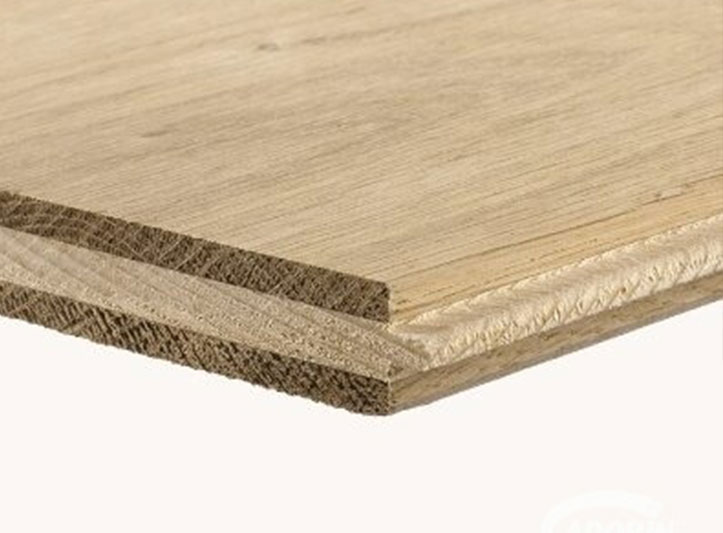 The thickness of the plank structure affects the stability of the flooring, its planeness and can come in handy for any future sanding or maintenance, ensuring a very long life for your wooden flooring. The UNI standards indicate 14 mm as the minimum thickness for layered wood flooring with floating installation.
Wooden floors with a minimum thickness of 2.5 mm of noble layer can be defined as solid wood flooring.
That said, the Cadorin planks are much thicker!
In actuality, the three-layer Cadorin planks have thicknesses of 16 and 21 mm, whilst the noble layer of the board reaches up to 5 mm, depending on the wood. It is precisely for this reason that Cadorin wooden flooring – thanks to these thicknesses – guarantee solidity and longevity to your floor. Furthermore, all the most common types of installation techniques are suitable, from glued, floating or screwed.
The thickness is a technical and qualitative factor of the wooden floor planks but the choice also affects the aesthetic factor and the possibility to customise your own flooring.
This is why Cadorin planks do not limit creativity and design in the home. Thanks to the thicknesses, the dimensions of the planks can reach up to and over 4 metres in length with widths of up to 33 cm.
In addition to producing and pioneering the three-layer plank, Cadorin also produces two-layer wooden planks of small and medium dimensions for glued installation. In this case, the thickness of the plank can be 13 or 14 mm. The two-layer plank solution is perfect when the thickness of any floor is constrained by renovation works and the requirements are, at times, determined by factors outside of our control. Cadorin obviously still strives to ensure the structure is highly effective and top quality in the two-layer wooden planks. The layer of the noble wood is kept at a thickness of between 4.3–5 mm in accordance with the wood utilised, still suitable for various finishes and processes. An exception is made in the laying, with floating installation not being recommended, it being best to glue to the screed or screw to a rigid support.
Bear in mind that the structure is also given by the quality of the wood utilised for the production of the planks. In the three top layers, the first and third are planks of noble woods whilst the second layer is cross-banded solid spruce. In the two layers, the lower support in noble wood is of high-quality cross-banded birch. The Cadorin production guarantees equal aesthetic finishes between the two types of planks if, for example, three-layer and two-layer planks are chosen for two different areas within the home, such as the living room and sleeping area, or the bathroom.
To learn more and receive further information about how Cadorin planks are made, simply visit the page "Technical Plank Explanations".