Gravel working that reproduces the natural effect of gravel on the surface of the wood.
All these workings conducted through an applied pressure technique make the wood particularly hard and compact and increase the wear resistance of the surface to make it ideal for every home.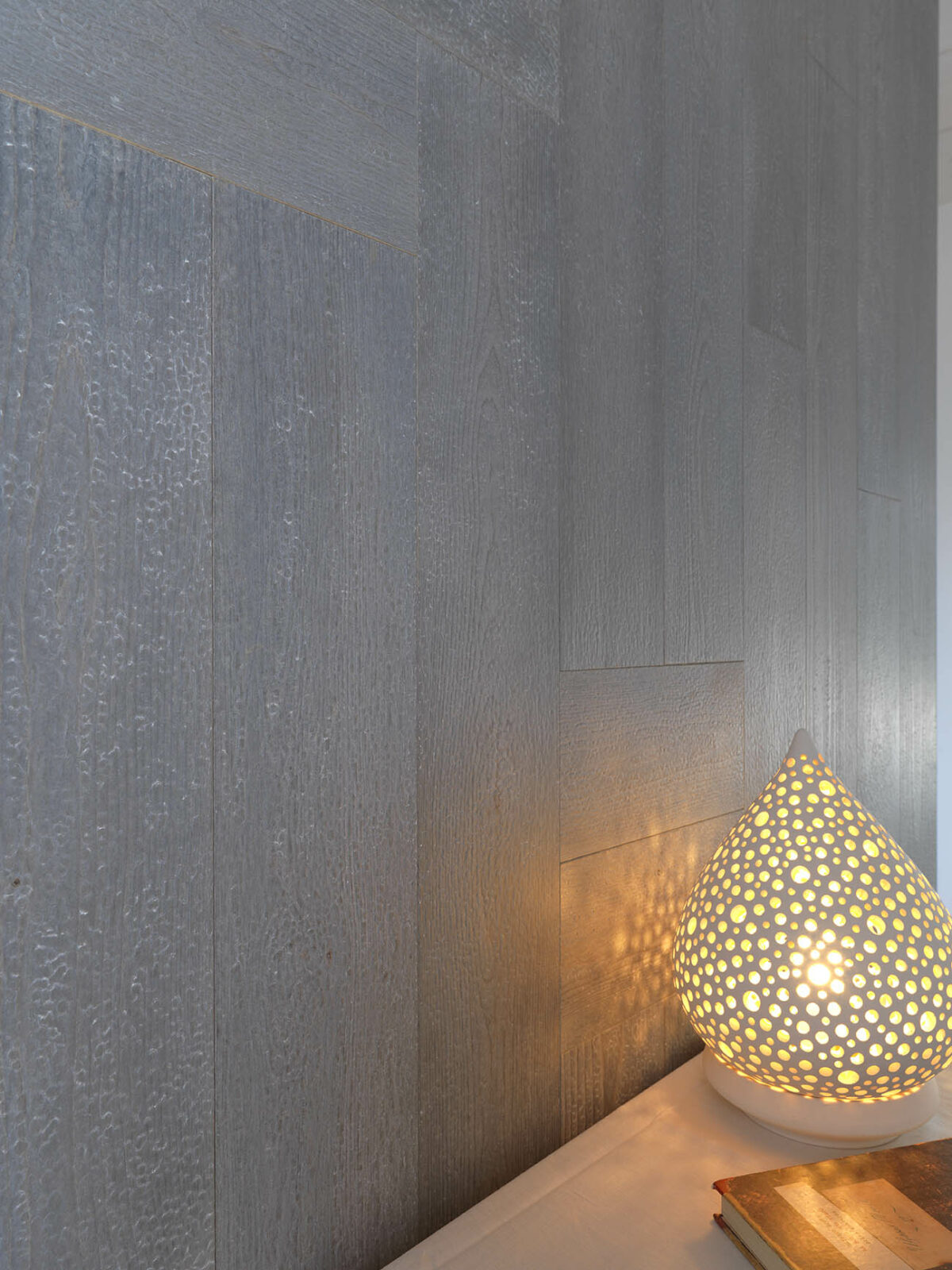 | | |
| --- | --- |
| Trade name module: | Larch Gravel Planks |
GRAVEL of LARCH contemporary charm plank
Walk along a gravel beach, feeling under bare feet sweet little round and smooth pebbles. The suggestion is strong but it is even more so if, once you open your eyes, you realize that the surface is a soft wood. The last frontier of Cadorin Group is this: impress on the floor real reliefs, a completely new and patented novelty in the field of wood flooring /paneling. So the Gravel of Larch proposal of Tracks Planks collection, that reproduces the random disorder of gravel, is eye -­ catching, creative, definitely out of of the traditional schemes.
The raw material is the Austrian Larch worked on the surface with a gravel relief drawing and subsequently finished with a nuanced gray and white varnish, through which you can see the wood grains.
This kind of superficial working produces two extraordinary effects: on the one hand the unique aesthetic relief combined with shades of color, on the other the wood hardness, also for the LARCH by nature a soft and tender wood, the result of this working is a hard and solid wood, and an increase of the resistance to wear and the practicality of the wood flooring.
The Gravel of Larch wood flooring belongs to the Tracks Planks collection, a patented line that offers perspectives and forms never seen before on a wooden plank. Besides the Gravel working, it includes also the Woven working that reproduces the texture of a linen cloth, or that one with animals, moon and stars prints, for children rooms wood floors.
The use of wooden planks isn't only for horizontal position, but always more this solution is utilized also for wall and decorative coverings.
The positioning of the Gravel of Larch planks on the wall is an unusual mix of orientation, a puzzle both horizontally and vertically, so as to achieve a new design for a fascinating result.