Casabella also talks about Cadorin's Barks…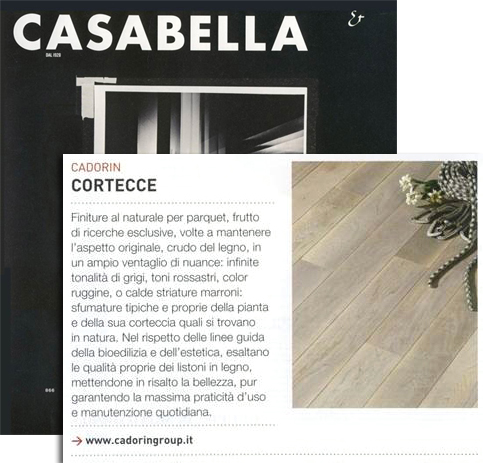 NATURE is ever more evident in Cadorin wood flooring. Not just in terms of Cadorin's respect for Green Building guidelines, but also that of beauty. 
Man has always sought to convert wood using finishes that often do not represent the "real" feel of wood in "NATURE". In fact, when varnishes or oils are applied to wood, they intensify the different grains and shades within the wood, giving it an artificial appearance, not a natural look. Such "man-made" hues are those that we are all used to seeing in our homes. 
Yet when strolling in the woods or countryside we realise that the true colour of wood is never this. Just look at untreated wood in NATURE: tree roots, branches and bark, even fencing posts and planks. They all show us the true colour and shades of wood in its NATURAL state. By having observed the NATURE, Cadorin has understood the original colours and has re-created these with its new "TREE BARK" finishes for its Epoch Planks and Pregio Planks Collections. 
The shades in the "TREE BARK" range are those typically found in untreated wood in its natural state – infinite shades of gray, reddish-rusty brown hues, streaks of chestnut brown – often the result of weathering. The final effect is a wood flooring that is far from "artificial": wood in its natural state inside the home used for wood flooring.