360° Design – Cadorin planks – the total interior design solution
The aim? Freedom to decorate the home with wood: wall coverings, panelling, ceilings, stairs and furnishings…
The structure and performance of CADORIN engineered plank material are such that it can be used not only for wood flooring but also on walls, as panelling, on ceilings, on stairs and for furnishings, or to cover doors. Hence the notion of All-purpose planks available to interior designers, increasingly in search of forms and elements that use wood, capable of enhancing and invigorating interior decor in horizontal and vertical compositions alike.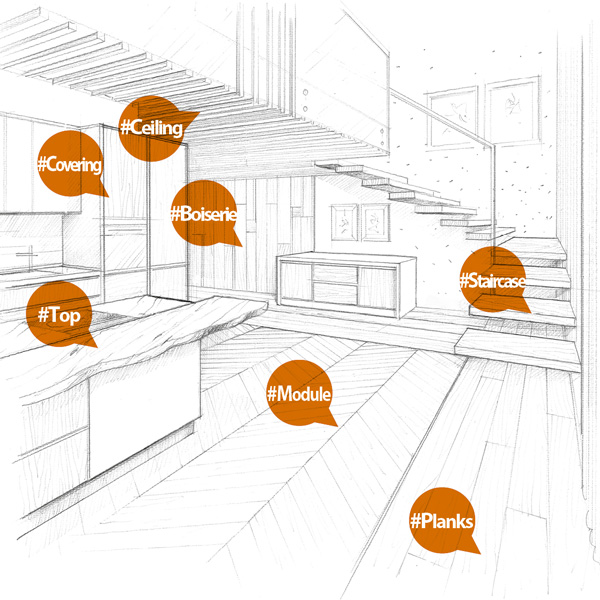 What design options are available when using Cadorin engineered plank material as a wall covering?
A parquet plank of whatever wood, colour and finish can be used with no problems at all to cover walls and much more besides.
But the message from Cadorin is that a wall covering need not necessarily be identical to the wood flooring material: not only can you select other woods or finishes, there is also the option of selecting the same wood as the floor but with a different texture or colour. For example, if the product selected for the floor has a brushed finish, the very same wood and colour can be selected for the wall, in this instance with a surface texture other than brushed, such as SANDED, HAND-PLANED, or FABRIC WEAVE, or SAW-CUT, etc.
The solutions on offer are unlimited: coverings for stairs, doors or furnishings and fittings such as kitchen cabinets, bookcases, fireplaces, bathtubs, bathroom and bedroom furniture, all of which giving end results with the same colours and shades as the floor but featuring textures and visual effects that are completely different. Which means that within a given dwelling, it becomes possible to create interiors with attractive variations and nuances of decor.
CADORIN planks are also suitable for use in combination with radiant panels. The evenly distributed comfort typical of wood is its great advantage: heat from the source is not radiated directly and vertically but absorbed by the wood and released uniformly; moreover, if the heating system switches off for short periods, wood will attenuate the drop in temperature. A word of advice on radiant panels: it is essential to evaluate which woods are more suitable and which less so.
Importantly, the structure and consistency of a CADORIN engineered plank floor are key factors in achieving optimum thermal inertia; in other words, this layered type of construction is able to mediate a change in temperature slower than the environment to which it is exposed. So, in spring and autumn, the interior will stay comfortable without having to turn on the heating, which means savings!
And no less important is the insulation value that a wood panelled wall or a wood ceiling could contribute to the overall building design.
Choose the best wood flooring for your home
There are really no limits on wood, if suitably structured like a CADORIN engineered plank, and it can be used on all surfaces of a home, always producing a powerful blend of warmth and style.