Restoration and care of wood flooring
PREFINISHED (OIL, WAX AND VARNISH)
In the case of a parquet floor pre-finished with oil/wax/varnish, optimum protection is achieved approximately 20-30 days after laying, with exposure to light and air in an environment with constant humidity (45-65%) and room temperature (16-22°). It is advisable to take great care during this period and wear soft footwear. If further building work is required, you must protect the wood flooring by covering it with a thick, soft and non-sticky breathable material to ensure that the pre-finished parquet does not become scratched, damaged or dirty.
In the case of a parquet floor pre-finished with natural oil or wax, let it settle for 8-10 days and then apply a coat of undiluted protective liquid emulsion, following the manufacturer's instructions. This will ensure that the wood is properly fed and extends the time before it needs renewing.
REVIVING THE WOOD FLOORING
Oil-treated wood flooring periodically needs reviving (once a year or more), depending on wear and tear by retreating it with oil. This is a very simple process. Varnished surfaces can be revived by applying a polish or wax emulsion to keep the varnish in good condition.
Always contact a qualified operator when a varnished surface needs special care (sanding and re-sealing with varnish).
Cadorin planks are supplied with a hardwood thickness of 4.5-5 mm allowing for future sanding if required without problems.
Look at the "Technical structure of the Cadorin Plank"
REPLACING DAMAGED PLANKS
Have one or more planks in your parquet floor been damaged? Now, any plank can be replaced!
Replacing a few planks in a parquet floor used to demand an enormous effort because the entire area had to be re-polished and repainted. Now, the laying of prefinished planks makes every single "damaged" plank easily removable and replaceable. We recommend keeping a few extra planks in good condition on hand for the day you need to replace damaged or ruined planks without having to remove the others. If you don't have any on hand, CADORIN can reproduce the ones you need exactly the same.
All you need to do is request more information.
SOME PRACTICAL TIPS
Always make sure rooms with wood flooring are well aired
Keep the room temperature between 15° and 22° C
Keep the ambient relative humidity between 45% and 65%
Avoid covering the wood flooring for long periods with carpets and avoid using non colour-fast rugs
When washing the wood flooring, do not pour water directly onto the floor, but always use a damp cloth
Protect the wood flooring during building work and repairs
Always use the cleaning and maintenance products recommended by the suppliers 
Apply felt pads on the bottoms of legs of chairs and tables.
As indicated in the Italian Consumer Code, the consumer must be handed the product identification sheet issued by the manufacturer (Italian Law No. 126 of 10 April 1991 "Standards for consumer information" and Italian Decree Law No. 101 of 8 February 1997 "Regulations for implementation").
This sheet accompanies the goods on delivery, being attached to the shipping document provided in the packs together with the information sheet.
---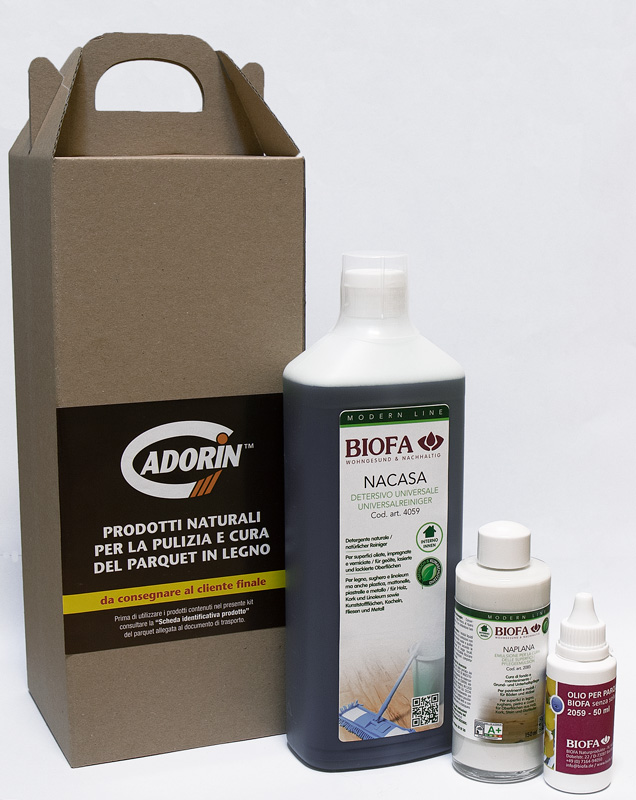 ROUTINE CLEANING
For routine cleaning, remove any dust from the wood flooring using a vacuum cleaner fitted with appropriate wood flooring brushes or, alternatively, using electrostatic cloths. The floor may be washed or revived as required by following the instructions given in the information sheet in the packaging, using a neutral detergent and suitable protective restorative emulsion. Avoid using any foam, abrasive, acid, corrosive or similar substances, whether chemical or natural, that could harm the surface.
The sanitizing and disinfectant hands detergents, in case of contact with the wooden floor, can damage the treated surface.
Do not use too much water: there are tiny gaps between each plank, allowing excess water to penetrate. Trapped moisture causes the wood to swell and change.
Every order of oiled parquet includes inside the packaging a
FREE CARE AND CLEANING KIT
Biofa cleaning products contain natural components and can be used for any kind of wood flooring finish: oiled, waxed, varnished.
---